Site News
---
08/22/09: Michigan October 2008 sting - 21 arrested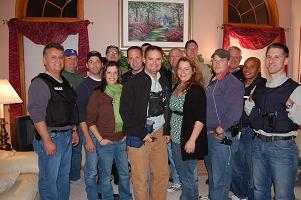 Working in Michigan is always so nice
We've returned to Michigan for another sting, this time netting 21 internet predators who arrived at the house. The sting occurred the weekend of October 17th-19th. Predators streamed into the area from Michigan, Indiana and Illinois. Their ages ranged from 20 to 65, but all had the same intention in mind.
We partnered for this sting with the
Michigan Attorney General's office
, as we had in the March sting operation. We can't say enough good things about their office, this sting was handled as great as the previous sting in March. This time we were set up in Grand Rapids and the law enforcement on scene were the fine folks from the
Kent County Sheriff's department
. It's been great working with you guys all weekend! The sting was filmed by our friends at
Investigative Mechanics
, who always do a great job.
These predators came from all walks of life, a mere six seven months since the last time we came to Michigan. The March sting netted 27 arrive, this sting operation saw 21 show up in order to try to have sex with an underage teen. Hopefully the downward trend continues as internet sexual predators should know that Michigan takes this crime very seriously.
08/22/09: 300th conviction celebration
Conviction number 300 has been posted, it is
Asif Khokhar
, a predator who had arrived at the Murphy, Texas sting operation back in 2006. He was charged in Harris County, Texas after news broke that he would not be charged in Collin County, Texas. Once the good folks of Harris County learned that an internet predator was walking free who lived in their county, they requested our evidence, evaluated it and used it to get the conviction on Khokhar.
Khokhar will now spend two years in prison, an illustration of what should have happened to every single predator from that sting operation had only there been competent and honest individuals staffing the Collin County DA's office.
For us, conviction 300 is another great milestone. When we started our operations in 2003, people critical of our work said that we'd never get one, let alone a hundred, let alone three hundred. Each conviction is a validation of the good work our volunteers do. That makes it especially appropriate that conviction #300 is the ultimate rebuttal against some of the most dishonest smears we've ever encountered.
Thanks to every volunteer who has been a part of our march to 300 convictions, and a special thanks to the good folks of Harris County, Texas in their work on the Asif Khokhar case.
Now, onwards towards 400! You can join our work in getting internet sexual predators exposed, arrested and convicted by
learning more about our non-profit foundation.
08/22/09: Summer 2008 arrest spree!
2008 spring and summer = consistent arrests
So what have we been up to in the last few months? Well, plenty of "
information first
" arrests all over the country, of course! We've been working with law enforcement from the East Coast to the West Coast and quite a few spots in-between. Check out the following list, which includes PeeJ chatlog arrests since April 1st, 2008 to September 1st, 2008.
April 2008
- April 1st: James Wesley Yount aka "jhnboyplyr" from Madison, MS, arrested in Jackson, MS.
- April 5th: Baltha Reddy Gopu aka "g_balthareddy" from Walnut Creek, CA, arrested in Chowchilla, CA
- April 16th: Carlo Lutzke aka "celica7000" from Sheboygan, WI, arrested in Appleton, WI -
related media
- April 18th: Marty Harris aka "martyh99" from Jackson, MS, arrested in Jackson, MS
- April 19th: Prasanna Babu aka "salsakewl" from San Rafael, CA, arrested in Chowchilla, CA
- April 28th: Mark Youngblood aka "mrk_youngblood" from Ft Smith, AR, arrested in Ft Smith, AR
May 2008
- May 2nd: Heath Kramer aka "thedragonreborn_30" from Houma, LA, arrested in New Orleans, LA
- May 8th: Steve Warren aka "sjw632001" from Windsor, CT, arrested in Meriden, CT -
related media
- May 9th: Russell Baker aka "hd88399" from San Jose, CA , arrested in Santa Cruz, CA -
related media
- May 9th: Gregory Alan Lovette aka "greg_lovette33" from Fairfield, CA, arrested in Fairfield, CA
- May 15th: Isaac Young aka "jxnsatisfaction" from Oxford, MS, arrested in Jackson, MS
- May 23rd: Justin Towery aka "justinawashcock" from New Albany, MS, arrested in New Albany, MS
- May 30th: Grant Boyer aka "hollister2346" from Barrington, IL, arrested in Wonder Lake, IL -
related media
- May 30th: Scott Ely aka "teadyber" from Belfast, ME, arrested in Oakland, ME
June 2008
- June 2nd: Mike Perry aka "freshfromthemachine" from Waterbury, CT, arrested in Meriden, CT
- June 4th: Larry Frank aka "soulkeepndaddy" from Prattville, AL, arrested in Ozark, AL
- June 7th: Shawn Kargakos aka "skargakos" from Watervill, ME, arrested in Oakland ME -
related media
- June 9th: Gregg Steven Bussey aka "nadd556/somemoreplez" from Duchesne, UT, arrested in Utah
- June 15th: James Eugene Young III aka "fredold_2000" from Farwell, MI, arrested in Calhoun County, MI
- June 18th: Chris Franklin aka cybertoy02 from Muncie, IN, arrested in Ohio
- June 20th: Charles Lippert aka "Chaznd1974" from Fargo, ND, arrested in Stark County, ND
- June 27th: Daniel Urban aka "demandgard" from Elk Grove, IL, arrested in Wonder Lake, IL -
related media
July 2008
- July 5th: Hussain Kamal aka "h_k43232" from Ohio, arrested in Greenville, TX
- July 6th: Anthony Collier-Quinn aka "kckboxer18" from Atlanta, GA, arrested in Hiram, GA
- July 12th: Raymond Deba aka "atx_muffdiver" from Austin, TX, arrested in Goliad County TX
- July 12th: Sandeep Kamath aka "kamath_manipal" from Stamford, CT, arrested in Meriden, CT
- July 12th: Jose Rene aka "cheren03" from Las Vegas, NV, arrested in Utah
- July 16: Jeff Day aka kissmytickle from Klamath Falls, OR arrested in Klamath Falls, OR
- July 29: Tony Giacobbi aka truckboss005 from Las Vegas, NV arrested in Utah.
August 2008
- Aug 6: Corey Arrowchis aka aggresk8er from Salt Lake City, UT, arrested in Utah
- Aug 7: Felipe Kiedaisch aka fjk84412 from Salt Lake City, UT, arrested in Utah
- Aug 11: Matthew Hedrick aka vipper131 from Twin Falls, ID arrested in ID on a probation violation stemming from new chats with our decoy.
- Aug 12: Scott Fish aka whiteboy562 from Anaheim, CA arrested in Long Beach, CA
- Aug 13: Tracy Garner aka jstg7784/tracyg7577 from Ontario, OR arrested in Oregon
- Aug 15: Alan Persch aka alanp110 from Mercer, PA arrested in Clarion, PA
- Aug 22: James Murphy aka duuderm from Eugene, OR arrested in OR
These 36 arrests highlight the expansiveness of our Information First program, which allows us to work any part of the country knowing that we have good law enforcement interested in picking up these cases in an effective, efficient way.
If you're with law enforcement and would like to know more, including where to contact to get your area included in future lists like the above, hit up our
Information for Law Enforcement
page for contact details.
Thanks to all the volunteers, from decoy contributors, content creators, phone verifiers and the like who make arrests like these possible. If anyone reading would like more information on volunteering with our foundation, please read the
How to Help page
.
08/22/09: Jon Schillaci arrested!
We have accomplished many things in our organizational history, but an arrest was made that ranks up there with anything we've ever done. FBI top ten most wanted fugitive Jon Schillaci was arrested by the FBI in Mexico and transported back to New Hampshire to face outstanding charges from a molestation he perpetrated nine years ago.
We had begun investigating the webmaster of notorious pedophile website
BoyChat
last year. He went by the pseudonym "Dylan Thomas." At the time, we had no idea that Dylan Thomas would turn out to be an FBI top ten most wanted fugitive. We first discovered the Thomas-Schillaci links back on January 7th, 2008. At first, we were skeptical that
Dylan Thomas
was Jon Schillaci. With more research, our team became convinced that Thomas was Schillaci. At that point, we knew we had to act.
At the end of January 2008, we used some contacts we have and got ahold of the FBI agent in charge of the case. That agent, Laura Hanlon, was fantastic to work with over the last five months. Sometimes when you contact law enforcement, you get detectives or agents who think they are too good to talk or work with you. Agent Hanlon was and is the model that all detectives and agents should follow when dealing with private entities. Friendly, professional and took an interest in the connections we had put together.
We were in near-constant email contact with this fantastic agent about Thomas/Schillaci and his online presence. Ms. Hanlon epitomizes the best in law enforcement. From January 2008 to June 2008, we worked directly with Agent Hanlon supplying information about Thomas/Schillaci's online activities, IP addresses, recordings, etc.
We are very pleased with the arrest of Schillaci, we had dedicated much of our resources and time over the last five months to researching and monitoring his online activities. This man is pure evil, and we don't use those words lightly. He is every parents nightmare and our dream is that he will never walk free again. We have confidence that the justice system will finally finish Jon Schillaci for the rest of his life.
Over the coming weeks, we'll have more details about the hunt for Thomas, the work involved and the research that was done via our affiliated website,
Wikisposure.com
.
10/02/08: Congratulations Detective Charles Merlo!
Recently a Shelbyville, Tennessee newspaper, the Times-Gazette, profiled local detective Charles Merlo. The newspaper profiled his efforts to catch internet predators in his area, so far catching three. We mention this because Detective Merlo is one of many police officers and detectives part of the first classes in our PJFI.org training program for law enforcement.
We recently launched this program in February of 2008, with the idea of using the expertise we've developed over the years to help detectives in a free, effective manner make use of the same technology and tactics that have made our sting operations so very successful. So far, things are going very well, as the news story relates.
From the news story...
The 36-year-old Shelbyville police detective sits at his computer, chatting over the Internet with a middle-aged man attracted to whom he thinks is a 13-year-old girl.

The alleged child predator agrees to meet the "13-year-old" in Shelbyville, and Charles Merlo's work takes another alleged child predator off the Internet and streets.

The detective says his interest in pursuing Internet child predators was spurred by the Perverted Justice web site, which specializes in helping law enforcement agencies fight cyber molesters.

"I'm still taking a class from pervertedjustice.com," Merlo said. "It's for law enforcement only. They provided 'Dateline NBC' with the resources when they were going after child molesters."...

..."We've caught three so far and there are a couple more who have yet to come meet me," Merlo said. "Hopefully there will be more."

Hal Helton, one of three suspects arrested locally due to Internet contact with Merlo, is from Blount County. Hoppy Joe Brown, of Savannah, and Dustin Lee Owens, of Murfreesboro, are the other two suspects netted by Merlo.

The classes helped Merlo learn to convince online chatters of his assumed online identity.

"I made up a persona on Yahoo -- Perverted Justice taught me how to keep up with online predators."

A big challenge was learning chat lingo and how to communicate in the words of a young teenager, Merlo said.

"Perverted Justice classes put you into it and show you how to handle them.

"I just enter a Tennessee chat room, not even write anything and there are 10 or 15 people wanting to chat," Merlo said. "Within three minutes after contact they know how old someone is and still continue to chat."
We're very proud of our free training program for law enforcement and that it is already starting to help get results with those who have taken the classes. Congratulations to Detective Merlo on his arrests and hopefully many more will ensue. Everyone concerned about this issue should be making their best attempt at working together in order to get internet predators arrested and prosecuted. We're glad that this is yet another way we can contribute to that goal.
10/02/08: Predator who showed at Murphy sting charged
Recently Asif Khokhar, one of 23 predators who showed up at our 2006 TCAP sting in Murphy, Texas was arrested due to our work during that sting. Of course, he isn't going to be prosecuted by the political games-playing morons in the Collin County prosecutor's office. Instead, Khokhar was arrested in Harris County, Texas by the Harris County Sheriff's Office. He has been charged with three felonies by the Harris County Prosecutor's Office.
He's been arrested due to the chat he had with our decoy prior to arriving at the Murphy, TX sting house. Readers of the site know well the lies we've dealt with from what should have been the prosecuting office in Collin County. Lies that the cases are flawed, that the evidence is no good, that police weren't in charge. Truly, the amount of lies told about the cases by the Collin County prosecutor's office defies belief.
With the arrest of Khokhar and charges being brought against him, the final bullet has been put into the body of lies told by John Roach and his office in Collin County. The arrest and prosecution of this dangerous internet predator in Harris County is the purest example of the fact that the cases were and are prosecutable and there is nothing stopping any competent prosecutor from bringing charges based on our work and the evidence accumulated.
Many thanks to the Harris County Sheriff's Department and Harris County Prosecutor's Office for taking a fresh look at the evidence and showing the state that while internet predators may be welcome in certain counties, they're definitely not going to find a safe harbor in Harris County, Texas.
10/02/08: Real stories project launches to dispel myth
We've launched our "Real stories project" for people to read. Over the years of our working to get internet predators exposed, arrested and convicted, we have come across a rather stupid argument. That argument? That this crime doesn't actually happen to real kids.
Fact is, we know it does, we see the stories. The general public often does not, however. These stories rarely make national news because for the national news media to be interested in anything... they need a picture, a face, a name. However, in most cases involving actual kids groomed, abducted and molested by internet predators... they don't want their face splayed across the nation's TV screens and they don't wish to be named, condemned to be reminded of the crime committed against them for the rest of their lives.
We'll be documenting one case a day for six months of an actual kid being targeted via the internet by predators. You will be able to read the stories, compiled in one place. This project should silence that old and stupid criticism and provide the public with an easy link to give when an ignorant person suggests that actual kids don't fall prey to this terrible crime.
You can view the story of the day on the right hand side of our main page or you can visit the archive
at this link
.
10/02/08: 11 more arrested in Michigan
We can't say enough good things about Michigan Attorney General Mike Cox. The man, well, he just kicks ass and takes names. Over a four day period earlier this year, we did a large-scale group sting in Michigan with his office and some law enforcement. That sting resulted in 27 individuals showing to the sting house and being arrested. It was a very good sting operation.
Now, most locations we've done stings in... they get those kind of numbers and they're usually done. Not AG Cox, however, because as soon as the "official" sting wrapped, they were already talking about going to individuals that solicited our decoy profiles but did
not
show up to the sting house.
Today, Cox and his office put together the 11th arrest of individuals who didn't show up to the sting operation but had solicited our profiles during it. The arrests are documented via a
press release his office put out
and a
bevy
of
local
media stories
(including
mugshots and names
).
The 11 arrests of no-shows together with the arrests of those who did show put the results of that sting operation to 38 arrests in total. We're very happy with the way this sting has been conducted and beyond pleased with the results.
We could say much more about it, but Attorney General Cox put it best with his statement... "
If you solicit a child for sex, or send sexually graphic material to a youngster, you do not escape prosecution just because you never got off your couch
" We really couldn't agree more.
05/30/08: Expansion: Perverted Justice Training Academy
We're all about the expansions lately, and now we have another one. We've been working for the last half a year on creating a proper training program for law enforcement. Putting together the materials and training that we teach our volunteers and instead putting together professional classes for law enforcement on the methods we use daily when it comes to internet predators.
Today everything is ready and we're excited to launch
our online training academy for law enforcement
. Rather than expect law enforcement officers to take time off and travel to a seminar or to put off cases to take a harsh and inflexible schedule of courses, we've consulted with law enforcement. The result? We've developed a solution which is accessible from anywhere and is flexible for any law enforcement professional's schedule.
If you're in law enforcement and would like more information,
please click this link
and follow the easy steps to enroll for the classes, starting soon.
05/10/08: 27 arrested in Wayne County, Michigan sting
After a long seven months of expansions and new projects, our volunteers came together to go back to our bread and butter: large-scale police stings. The result?
27 internet sexual predators arrested over March 7th-9th in Wayne County, Michigan.
Our volunteers combed out all over Michigan and the results were once again overwhelming. Men of all backgrounds hit up 13-14 year old decoy profiles and arrived at a house to be arrested.
With all stings, there are stories that seem unbelievable. In the Detroit area, dogged determination was the hallmark of these sexual predators. During a harsh wintry weekend, we saw predators arrive by every type of car imaginable, five came in taxi's and one predator rode a bike through snowy freezing temperature in the middle of the night... ten miles... to the sting location. One predator even got a flat-tire on the way to the bust house, drove a distance on it before stopping to fix it with the help of a nearby policeman. He told the officer that he was going to meet a friend before continuing straight to the bust house operation.
If anyone thinks these guys aren't out there anymore or that this issue is finished, think again.
Special thanks to the Michigan Attorney General's office, especially Michigan Attorney General Mike Cox. Their office has been a dream to work with, and we hope they're as pleased with our work as we were pleased with their professionalism and ability. Michigan residents can be very proud of their extremely pro-active Attorney General's Office.
We'd also like to thank the Wayne County Sheriff's Office who provided the boots and handcuffs on the ground to take care of these guys once they arrived. They supplied an unprecedented level of coverage and surveillance to make sure that every predator who entered the area left with handcuffs on. The fine people at Wayne County have been great to work with. As well, thanks to the Van Buren Township Department of Public Safety for their support and work during the weekend sting operation. Also, thanks to the fine folks at Investigative Mechanics, especially Mitchell Wagenberg, for working with us to film this operation and to provide first-class video surveillance.
27 predators during a sting operation is the fifth-most we've ever had for a large-scale police sting, and the second-most outside of California. The difference between this sting and the others? Well, again, this sting saw predators brave wintry weather conditions. Snow, cold, nothing stopped them from getting to the goal. Again, we're extremely pleased with the outcome of this sting operation... it's very nice to be back doing what we do best!
Related video:
WDIV in Detroit covering the press conference by Michigan AG
---
Older Updates »
Conviction Counter
Number of predators convicted due to
Perverted-Justice.com since June 2004:

623
---
Chatlog Convictions: 622
Research Convictions: 1
Real Stories Project
For the next six months, we're documenting actual cases of internet abductions and molestations. One case a day for at least six months. Beware, these stories can be disturbing.
Updates from around the Foundation
PeeJ Store

Help our efforts to raise awareness to the growing problem of online pedophilia by shopping PeeJ. Hats, T-Shirts, Mugs and more.
[PeeJ Store]
Thank you for your Patronage