Site News
---
02/05/07: New Corporate Sex Offender: LiveJournal.com
The newest addition to our
Corporate Sex Offender
registry has been added and it is a doozy.
LiveJournal.com
is one of the biggest blogging websites online and one of the most popular with children as well. However, as we've found on other large websites... child-rape advocates and pedophiles have taken root.
LiveJournal at this point has expressed an extreme lack of caring that they're mixing a popular service that kids use with a robust and obscene pedophile "scene." The kind of content LiveJournal is excusing and protecting is documented in our LiveJournal investigative report, as is their reaction so far.
Have a read of yet another report of corporate pedophile excusing
and join us in asking those that own LiveJournal and those that advertise on LiveJournal why the company won't take a proactive stance against allowing child-abuse advocates from using their wildly popular services. To date, CSO campaigns have made a very powerful effect on the companies we've uncovered, with your help we can do the same in this case too.
12/29/06: This time... in Flagler Beach, Florida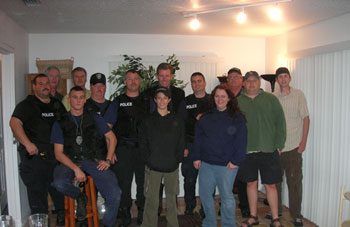 21 arrested in Florida in PeeJ sting operation
Returning visitors know what that term means... it means we've gone and done it again. Completing our 13th large-scale police sting operation this year, we were able to garner the arrests of 21 predators with the partnership of the Flagler Beach Police Department. We'd first like to thank the department for being so professional and outstanding to deal with over the course of the planning and performance of this large-scale operation.
Over a period of four days from December 8th to the 11th, men came from all walks of life in order to have sex with what they thought was a 10-14 year old male or female. Predators ranged from a neighboring county Sheriff's Deputy to a college teacher and everything in-between. Predators came from as far as five hours away to the sting house and as near as Flagler Beach itself. They all came with one dangerous intention and all learned the results of that activity when they cross paths with a PeeJ decoy.
Most disturbing individual? One predator, an active police officer, arrived at the sting location with a variety of items. Included in his car were knives, a variety of firearms, rope, duct tape, tarps, a chainsaw and a boat anchor. Never before has any predator arrived with such a macabre arrangement of items.
We're very pleased with the results of this sting operation, more information will be coming out in the coming days in regards to the predators arrested and the circumstances surrounding the sting operation. This sting was filmed by Dateline NBC for our 10th edition of To Catch a Predator, our eighth such sting filmed by Dateline this year. In 2006, 220 internet predators across the country were found, exposed and jailed due to "To Catch a Predator" sting operations.
12/13/06: Celebrating the 100th conviction!
We logged our first conviction in June of 2004, since then we have increased our rate of logging convictions expodentially. How? Why? Because as we've been stating for over three years now, we wanted to become a conviction machine. This has been accomplished now that our 100th conviction has been logged.
With our 100th conviction, we had been planning to label the conviction machine completed. After all, so far this year we've already had 60 convictions of internet predators, a rate of over
five convictions a month
. At this point, it had been a year since we posted a file to the website of someone who hadn't been arrested. We have been planning since January to archive those logs and files of individuals who hit upon us prior to our completion of turning the organization into one big conviction machine.
Hence, with this hundredth conviction, we have archived all non-convicted files. They're still there for law enforcement perusal but with our 100th conviction, it's time to archive the past. With our contacts across the nation with law enforcement, there's no chance of a predator hitting on us without getting arrested. We simply have too many contacts. That fact in hand, it's just time to move to conviction-only logs.
We've also re-worked our layout, for those of you with resolutions higher than 800x600, you should now be enjoying our expanded main-page layout. We'll be filling this area with expanded content and updates now that we have more room to work with.
It took us less than three years to log 100 convictions, and we could not have done it without the volunteerism of everyone who has worked with the website throughout our history. We are still taking in new volunteers daily on our forums, so don't delay, sign up and start the process of eventually having your work featured on our main page.
Of course, number 100 is just one number of many to come as we have well over 250 active cases still out there in the court system with more and more each month. We're just taking the time to pause and celebrate hitting this important milestone. We have spent years working towards this goal and it's awfully sweet to have now hit it.
12/13/06: Moron "reporter" defends pedophiles
Normally that subject wouldn't get covered here as typically... who cares? However, this particular moron reporter-pretender defended pedophiles under the guise of "defending the gay community." Anyone that knows us will understand why that puts the anger fuel in our angry gas tank. Yes, that much anger, indeed.
Read why we're more than a little tiffed
here in this Opinions article
. If you disagree, feel free to leave the website because what we wrote is just that damn true. We've seen many stupid so-called "articles" written regarding things we've done or our work in general, this one may just take the entire cake.
12/12/06: Pedophile activist "Rookiee" identified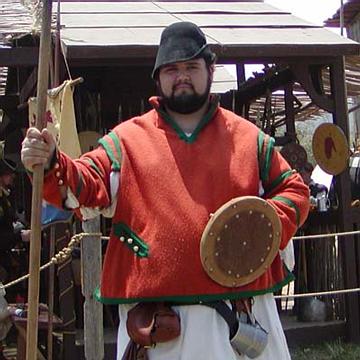 The face of an online pedophile activist
We started off our "Corporate Sex Offender" campaign due to the work of a single pedophile who made the mistake of attacking us. We've long been aware of the organized online pedophilia activist community, but we had only focused on fighting internet predators. The face you see above changed all that... so in a way, we have to thank him now that we know his name.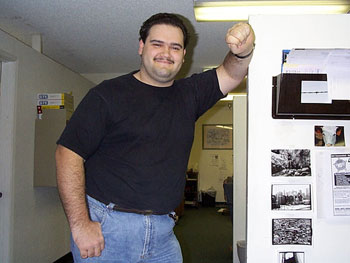 Damien Cole aka Rookiee Revolyob aka Crassus
And what better way to thank someone than to give them public credit? So thank you,
Damien Cole of Pomona, California
for making it possible to hold companies accountable when they enter into business agreements with organized pedophiles or simply host the content of child-rape activists. We definitely need to make sure his community knows about our "appreciation" for his online activities, more information on that can be found in our forums.
You can help out by
visiting our Corporate Sex Offender subsite
and pitching in on the good work to be done on our CSO forums which are growing by the day.
12/07/06: David Kaye gets sentenced to 6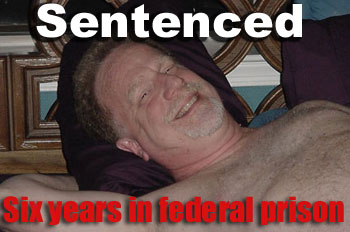 David Kaye of Dateline 2: Virginia fame was sentenced on December 1st to six years in federal prison, along with a variety of restrictions and controls once he is released. Kaye, known on the site as "REDBD" solicited what he thought was a thirteen year old boy in a chat-room. That "boy" turned out to be a Perverted-Justice.com Decoy.
Kaye's sad fall from grace should be a warning to any adult using the internet, don't solicit kids or you'll end up right here along with a guy like Kaye. We're very happy that another internet predator will be taken offline for years.
12/05/06: PeeJ training event in Oklahoma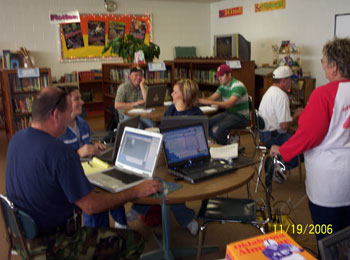 Recently two of our upper-level site volunteers were asked to go to Walters, Oklahoma for a law enforcement training session. Over a two day period, our volunteers went through how to catch an internet predator over full-day training sessions. Covering everything from the basics to advanced techniques, the training saw ten officers from their city get hands-on instruction... but just how hands-on?
Well, the second day of the training saw the most hands-on training possible... an internet predator arrest! They picked up the information so quickly that with the aid of our advisors they were able to have a predator solicit them, travel and be arrested! With that sort of quick success, predators will soon know that Walters is not a good locale for them to visit.
We're glad the training was helpful and has already resulted in one arrest (
With 200k bail, at that
), thanks to the fine people in Walters for inviting our organization to share our expertise in this field. We'll be rolling out a full-fledged and innovative training program in 2007, these sorts of success stories will become very commonplace.
12/01/06: Fun with statistics
Our organization has proven the importance of harnessing civilians to work on these cases in this manner. Others have tried to "go it alone" logging mere dozens of convictions over a decade, but we knew that using the power of everyone would gain results far quicker.
Since June of 2004, we have averaged 3.5 convictions a month. This year so far in 2006, we've averaged well over 5 convictions a month. We had 7 convictions in 2004, 33 in 2005 and so far 60 in 2006 with more to come! With over 250 cases still outstanding and our logging new cases all the time, who knows what 2007 will hold in store for us.
We've accomplished these results with less than 65 full-time active contributors. We hope one day to have hundreds of chat-log contributors trained by our organization... so don't feel as though you are late to the party. We're always looking to add new chat-log contributors selected to be trained from our forums. Who knows, maybe you'll log conviction 1000 in the future!
Over the years, we've overcome people trying to attack us and slur us to obtain these results. Nay-sayers abounded, saying that we were "evil vigilantes" and that law enforcement would "never work with us!" Now we hold all the records on the amount of internet predators arrested in one location in one night, we have shattered previous efforts when it comes to large-scale stings and we have proved beyond any doubt the integrity and validity of the evidence we've accrued. Over 100 convictions... and the best statistic of all? 0 acquittals.
Thanks to everyone who has helped us along the way, from volunteers to our partners in the media to the pro-active law enforcement we work with on a daily basis.
11/29/06: Must-read article in the Dallas Morning News
The Dallas Morning News ran a great article talking about the psychology of predators and how some prominent people lead "secret lives." It's actually a very, very well-written article with multiple viewpoints from those in the psychology field.
Give "
"Walls of Denial Conceal Secret Lives"
a read, it's a very interesting article, very well done.
11/17/06: All about the Murphy, Texas sting
It generated a ton of media interest, the Murphy, Texas sting netting (now) 23 arrests thus far has been an unqualified success. From a teacher to retired law enforcement, those caught by the Murphy sting were nothing but obsessive predators with most of the arrested coming over the age of 30 and 9 of those 23 arrested being over the age of 40. 21 predators arrived at the sting from November 2nd to November 5th with more being arrested since then.
The Murphy Police released a statement identifying the individuals arrested in our Murphy sting operation.
At least ten of the individuals came from within half an hour of Murphy, Texas
in order to meet what they thought was a minor child for sexual purposes. In all, 21 individuals came to the house during the sting operation.
# Eric Rubalcava, age 31, from Houston
# John Baker, age 25, from Frisco
# Stanley Kendall, age 54, from Mesquite
# Timothy Gilliam, age 32, from Flower Mound
# Asif Khokar, age 27, from Houston
# Samuel Tanguma, age 27, from Grand Prairie
# Steve Rosello, age 32, from Kennedale
# Edward Hollingsworth, age 35, from Dallas
# Milan Mehta, age 46, from Richardson
# Sajjad Mohammad, age 43, from Murphy
# David Pann, age 40, from Lewisville
# Alan Chernnay, age 58, from Plano
# William Dow, age 63, from Carrollton
# Kevin Carroll, age 37, from Carrollton
# Jose Soto, age 54, from Mesquite
# Christopher Cothrum, age 23, from Westworth Village
# Justin Estes, age 27, from Plano
# Paulo Deassuncao, age 37, from McKinney
# Timothy Knowles, age 35, from Euless
# Patrick Parr, age 33, from Frisco
# Randall Wolford, age 52, from Whitewright
Those arrested later included...
# Louis W. Conradt, age 56, from Terrell*
# James K. Marsh, age 23 from Burleson*
# Ryan A. Fritz, age 28 from Rockwall*
*Did not arrive at the sting house, was served with a search and arrest warrant at his home instead.
Relating to the reaction of a couple dozen residents in Murphy to the sting, along with the town's mayor, we've published three articles detailing our response to the trumped-up "criticism."
1.
"A Problem They Don't Have?"
2.
Welcome to the quotes of Bizarro, Texas
3.
Mayor Baldwin's inaccuracies and spin on the Factor
We're very pleased with the results of this sting operation, we'd like to thank the Murphy Police Department and all other law enforcement units, city, county and state, who helped make this large-scale sting possible. We have now aided the arrest of over 260 people just thus far in 2006 alone. This sting was filmed by Dateline NBC for a future episode of "To Catch a Predator", we will announce the air-date as soon as one is decided upon.
---
Older Updates »
Conviction Counter
Number of predators convicted due to
Perverted-Justice.com since June 2004:

623
---
Chatlog Convictions: 622
Research Convictions: 1
Real Stories Project
For the next six months, we're documenting actual cases of internet abductions and molestations. One case a day for at least six months. Beware, these stories can be disturbing.
Updates from around the Foundation
PeeJ Store

Help our efforts to raise awareness to the growing problem of online pedophilia by shopping PeeJ. Hats, T-Shirts, Mugs and more.
[PeeJ Store]
Thank you for your Patronage