Site News
---
07/13/07: PeeJ Contest: Thanks to those who entered!
We recently ran a PeeJ contest in order to give away five copies of Chris Hansen's book "To Catch a Predator." Site readers sent in essays talking about why they watch the show, in fact, we've been deluged with contest entries... really good ones too... erm... this is going to be a hard decision!
Winners will be notified shortly and we'll soon have a PeeJ Opinions article up with all the Essay submissions for everyone to read. Thanks to EVERYONE who sent in a Essay submission for the contest, we wish we had more books to give away to all of you!
07/01/07: Darke County, Ohio is DONE
With the conviction of Ronnelle Stephens-Tun, Darke County, Ohio becomes the first large-scale police sting we've done with Dateline to be completely... done! Eighteen out of eighteen arrested predators have been prosecuted and convicted, with most seeing some amount of jail-time. We did the Darke County sting back in early spring 2006, so in barely over a year the Ohio justice system prosecuted all eighteen successfully. Nice work!
All our other large-scale stings still have predators pending trial, so kudos to Ohio for having a (in comparison) relatively-speedy criminal justice system. Thanks to the awesome police and prosecutors we worked with in order to successfully complete this sting operation as a 100% success.
06/05/07: CSO: Helping Myspace delete RSO's!
Recently one of our forum members started a thread where he found a couple registered sex offenders on Myspace and reported them. We figured... well, good idea, let's all do it! Our Corporate Sex Offender area on the forums set up a forum to organize it and we started in, not knowing just how many Registered Sex Offenders we'd find having Myspace profiles.
In the first nine ten eleven twelve thirteen two weeks sixteen seventeen twenty days, we identified 600 664 710 783 853 910 1,021 1,080 1,203 Myspace pages of registered sex offenders.
That's right, more than thousand... and we're JUST getting started. Thankfully Myspace isn't like a lot of online companies, they actually care to keep pedophiles and sexual offenders off of their service and have been deleting them... well, not as fast as we report them, but pretty fast regardless!
Myspace doesn't have to delete RSO's from their service, but they do. Any company that has millions upon millions of users are going to have registered sex offenders. We're happy that Myspace has taken this issue seriously! While you know sex offenders flock to popular websites, especially those geared towards kids and females, it's still shocking to see so many uncovered so quickly.
Along with reporting these offenders to Myspace, we've also reported many to their local probation or parole officer. Quite a few weren't supposed to have such pages and now not only do they NOT have those pages, but some of these guys have gotten in trouble for it. If you'd like to help out with this, read our "how to help" page and sign up for the forums. We've barely scratched the surface on looking through the online sex registries and we could use more hands! Thanks to everyone who has helped out with this project, it's been wildly successful.
Edit:
As of this being archived in our updates area, we have reported almost exactly 3,000 different registered sex offenders to Myspace, the vast, vast majority of which have been investigated and deleted by Myspace.com.
05/18/07: Sting results for March and April 2007
This time... 11 in Campbell County, Kentucky
Frag, Del and Pibb at Campbell County press conference
We've been busy yet again, this time revisiting Kentucky for the second time in the last six months. Late last year, we did a sting in Louisville which netted seven internet predators. This year we were invited back and gladly accepted.
The new sting in Campbell County netted 11 internet sexual predators seeking what they thought were children aged 12 or 13.
We conducted the most recent sting from April 12th to the 15th, 2007. This comes just a couple weeks after our sting in New Jersey.
First, thanks to agencies and departments assisting this investigation: Kentucky Office of Consumer Protection, Kentucky Bureau of Investigation, Highland Heights Police Department, Campbell County Police Departments, Regional Organized Crime Information Center, Campbell County Jailer, and Campbell County Commonwealth's Attorney's Office.
Secondly, we're very pleased with the sting. The level of support from KBI was stellar. The predators themselves defined the term "predator" and the term "disgusting." Something we've noticed recently is that we're seeing less of the "opportunistic" predators and more of the flat-out creepy, disgusting and in some ways, insane. The age of these predators varied from 24 to 59. However, importantly, the average age of the predators that arrived was 40.4 years of age. This continues the trend of seeing the results of these stings average older and older over the last four stings we've performed.
The Attorney General's office of Kentucky issued the following press release:
KY AG press release
. As well, they released
the mugshots of those arrested
.
This sting was filmed by the always-awesome best camera crew company in the world,
Investigative Mechanics
led by Mitchell Wagenberg. They're the undercover investigation experts who are hired by Dateline to film the "To Catch a Predator" series. We're very happy that the best company in undercover observations worked with us to document this event. Thanks very much, guys.
List of predator names, locations, ages and occupations on the dropdown:
[dropdown]David L. Quist, 46, of Fort Thomas, works for IBM
James C. Rauch, 59, of Cincinnati, a staff employee at the University of Cincinnati
Donny Emmert, 30, of Groveport, Oh., warehouse supervisor
Timothy L. Kyne, 42, of Indianapolis, commercial electrician
Michael Meyer, 24, of Covington, works at Builders Supply Warehouse
Charles David McCallister, 41, of Manchester/Hyden, Ky., works for Coal Tipple
Dennis M. Wissel, 44, of Reading, Oh., works at Army Veterans Hospital
Anthony Orangias, 39, of Colver, In., disabled
Richard Springmeier, 48, of Cincinnati, works at an Arby's restaurant
Paul Westwood, 45, of Monroe, Oh., works at Crescent Distribution Warehouse
Nick Kelly, 27, of Sandy Hook, Ky., Ohio Valley Wholesale truck driver[/dropdown]
This is yet another in our ongoing series of stings, both with and without media, that we're doing across the country. This was our 16th predator large-scale sting with law enforcement in the last 15 months. Thanks to all contributors, verifiers, researchers and content creators who had a part of these results.
Short video download (WMV):
Released here
This time... 28 in Ocean County, New Jersey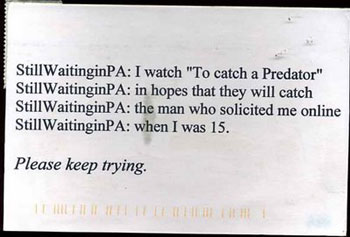 The world is a strange place. The above is a
post-card sent to "Post Secret"
and posted in the mid-afternoon of March 31st. Post Secret is an ongoing community art project where people mail in their secrets anonymously on one side of a homemade postcard. The note itself proves just how eerie the world can be as when the note was posted, we were in the middle of working another group sting operation.
From Thursday, March 29th to the mid-afternoon of April 1st,
28 predators arrived at a New Jersey home in hopes of having sex with an 11-14 year old child.
Of course, as site readers know... they were actually hitting on our decoy profiles. Predators came from all over New Jersey, New York and, eerily enough,
Pennsylvania.
They ranged in age from 20 to 60, all walks of life included in the mix as usual. Some of the strangest predators to date, putting them into words would be ineffective at getting across how different some of them were. We had predators describing exactly the acts they wished to do and confirming their intent beyond belief, without fear. This was an amazing sting.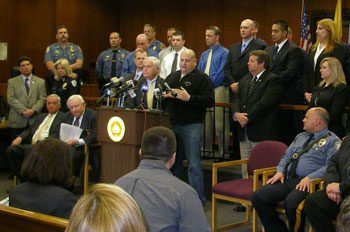 Frag at Ocean County prosecutor press conference
We would like to thank the absolutely fabulous, awesome, professional and awesome, awesome, awesome folks at the Ocean County Prosecutors Office, Stafford Township PD, Manchester PD, Mantoloking PD, Bayhead PD, Seaside Heights PD, Ocean County Department of Corrections, Ocean County Vehicle Services, Ocean County Security Dept, Ocean County Sheriffs Department, Brick Township PD, and the Point Pleasant Beach PD.
They are without a doubt some of the best people we've worked with to date. What a great department, we really can't say enough about how great they were to work with both before the operation and during. It makes life easier when we have such great cops to work with. Oh, yes, and this sting
was
filmed by Dateline NBC for an upcoming edition of "To Catch a Predator."
List of predator names, locations, ages and occupations on the dropdown:
[dropdown]•David C. Russell, 39, compounder, Driftwood Drive, Jackson.
•Chris Raynor, 22, custodian, Miry Brooke Road, Hamilton.
•Eugene E. Daily, 54, Postal bus driver, Martin Place, Middletown.
•Terry Warner, 60, engineer, Ladwood Drive, Holmdel.
•Robert A. Grabner, 25, dairy man for Pathmark, Vaughn Avenue, Toms River.
•William R. Hare, 21, lifeguard, Hyde Court, Bedminster.
•James D. Marcotte, 32 , printing press operator, Stuyvesant Drive, Lumberton.
•John P. Donnelly, 21, salesman, Victoria Lane, Ocean View.
•Ernest C. Timmons, 32, Air Force mechanic, 13th Avenue South, Spanaway, Wash.
•Dwayne J. Chisholm, 29, LA Fitness manager, Beckerstown Way, Chesterfield.
•Sean Erick Saintil, 29, school bus driver, North 52nd Street, Philadelphia.
•Kazuo Akutso, 37, salesman, 29th Street, New York.
•Daniel F. Figueroa, 23, unemployed, Star Street, Brooklyn.
•Todd C. Lewis, 36, printer, Tanner Street, Expat, Pa.
•Zigfield Rivera, 21, pizza maker, Carey Ave., Staten Island.
•Gregory P. Stewart, 43, consultant, West Passaic Street, Rochelle Park.
•Malic K. Washington, 27, New York University student, Blake Avenue, Brooklyn.
•Rick Burnham, 42, retired firefighter, Elm Street, Enfield, Conn.
•Howard Thornton III, 27, warehouseman, Delps Road, Danielsville, Pa.
•Selwyn A. Knights, 37, communications supervisor, Santangilo Ave., Lawrence.
•Anthony Palumbo, 46, unemployed, Shotwell Avenue, Staten Island, N.Y.
•Jeremy D. Keister, 29, car salesman, Eaglerville Road, Eagleville, Pa.
•Michael A. Murray, 43, Little Silver A&P, Almond Drive, Toms River.
•Sean C. Lee, 33, disabled and unemployed, Radio Road, Little Egg Harbor.
•Michael C. Lubrano, 25, dispatcher, Emerson Road, Hewitt.
•Justo Benavides, 23, Fed Ex driver, Stewart Avenue, Kearney.
•Savio Noronha, 32, driver, Sheridan Avenue, the Bronx.
•Thomas Shin, 36, court administrator, Quail Ridge Drive, Plainsboro.[/dropdown]
We will
always
be trying.
04/02/07: Recent PeeJ Opinions articles posted...
Every once in a while, some reporter writes an article and we just can't help ourselves but to fact-check it. Recently an article ran in the Columbia Journalism Review attacking the "To Catch a Predator" series we help out on. Frankly, the entire article was a load of tripe. But, without any counter-point, how would anyone know it? Written slickly, the article itself would be persuasive without fact-checking getting in the way.
We took it upon ourselves to put on some editorial fact-checking shoes in our piece entitled "
The Fact-Checking Game
." Taking apart Douglas McCollam's editorial fact-by-fact, it's a long and we believe, compelling look at the type of trash that passes for modern "journalism." Read for yourself and as always, make up your own mind.
Also recently, we wanted to give new and old users a taste of some information that they might just not have had. Entitled "
Ten things you likely don't know about Perverted-Justice.com
", we cover ten things that aren't readily apparent to new visitors, as most people haven't been around for our entire history. Some of it may surprise you, some of it you may already know, but all of it is who we are.
We hope that the article helps create more understanding of who we are and what we do for you new visitors that hit the site daily. To discuss the article, feel free to head for our PeeJ General Discussion forum and if you have any questions regarding what we do, make sure to make a post in our Ask the Administration forum.
04/02/07: Congratulations to California Prosecutor!
We have a memory for those who have stepped up and been the catalyst for our growth. Recently, Michelle Paradise of Riverside County
was named Prosecutor of the Year in Riverside.
Long-time readers know that Riverside was our first large-scale police "weekend" sting operation. While the police get much of the praise here, we can't do much with them if there are no prosecutors willing to take cases.
Michelle Paradise was the first prosecutor to step up and take those cases en masse. And we mean en masse, as we had 51 predators show up over a three day period! It is especially gratifying to see a proactive and fearless prosecutor awarded with such a distinction and we hope that our work in Riverside helped earn her that distinction. Great prosecutors should always be rewarded.
03/20/07: It's official: Welcome to Convictiontown!
When we said in late 2003/early 2004 that we wanted to become a conviction machine, we weren't joking. Long-time readers know that things have ramped up. But just how much? Well, let's contrast and compare.
2004 - Seven convictions for the year
2005 - thirty-three convictions for the year
2006 - eighty-one convictions for the year
Not bad, eh? Shows good progress. Well, 2007 is already shaping up to destroy the previous years... perhaps combined? The first
53 days of 2007
have seen
40 convictions logged into the website
. That's right, in less than two months of 2007, we have logged more convictions than for all of the year 2005. Our production in January and so far in February matches the conviction total through the first two years of the website.
Like we said, it takes time to show law enforcement and prosecutors that your work has great results. From our results so far this year, you can tell that the message has been sent to the law enforcement community: Our evidence and procedures are for real. Thanks to all the law enforcement that have worked with us to get arrests and convictions using our evidence and there's more to come!
03/14/07: TCAP Tuesdays February-March completed

Nary a day goes by when we're NOT being asked about when new episodes of "To Catch a Predator" are going to air. We're very happy to announce that six
NEW
hours of TCAP will be airing starting
January 30th
on
NBC
at
Eight PM
!
The schedule is as follows...
January 30th
- Long Beach, CA part 1 -
Aired!February 6th
- Long Beach, CA part 2 -
Aired!February 13th
- Murphy, Texas part 1
Aired!February 20th
- Murphy, Texas part 2
Aired!February 27th
- Flagler Beach, FL part 1
Aired!March 6th
- Flagler Beach, FL part 2
Aired!March 13th
- Update and Retrospective Show
Aired!
You'll see Chris Hansen kung-fu fightin... err, verbally confronting eighty predators including an individual he... met... before, some ex-law enforcement, some teachers, some individuals who have hit on us before... it's a smorgasborg of predator catching as you can only find on Dateline NBC.
In all seriousness though, we're very proud of these upcoming specials, each one is unique in their own way. Long Beach, CA is our second-most prolific sting, with 38 individuals arriving over three days. It also has a TCAP first, a man exposed and arrested at the third TCAP sting that shows up nine months later for the Long Beach sting. We've had many head-scratching moments, but witnessing obsession in the form of a man meeting Chris Hansen for a second time in less than a year definitely ranks up there.
Murphy, Texas was an interesting sting in general, because it's the first sting where we earnestly believe that all we caught were hardcore pedophiles and obsessed predators. There are really three types of internet predators, the obsessive hardcore pedophile types, the "opportunist" types that will have sex with any female whether they be 75 or 12 years old, and men that fantasize about their youth while buying into "youth" as sexuality. This Texas sting saw the opportunists scared off, leaving us with only the other two types of predators. Murphy is also compelling due to many other reasons, which you'll see yourself when the shows air.
The last sting in the six week specials is Flagler Beach. Not only did that sting continue the phenomenon that we saw in Murphy, Texas but it featured some of the most cold-blooded and bone-chilling predators yet. Little will send shivers down your spine as much as an active duty police officer who arrives with a truly macabre assortment of items. If you think these guys aren't dangerous, just wait until you see the Flagler footage.
These three stings are
BRAND NEW
, not repeats, so make sure to make your calendar in order to see the original ongoing investigation into this national epidemic.
03/10/07: Special Feature: PeeJ 2006 Retrospective

We recently completed writing the definitive Perverted-Justice.com retrospective for 2006. And believe us, when we say "definitive", we mean definitive. Covering every major event from January to December 2006, we spare no word count in order to put it all in a digestable format for new visitors and old volunteers alike.
Have a month to month read of the year by
taking our Retrospective Tour
. At the end of the tour is a page of statistics for 2006 that are really quite remarkable. It was amazing to us as we wrote it that all of what is included actually happened in a mere year span of time, not to mention how many things we had completely forgotten about doing until we exhausted our archives.
Thanks to everyone involved in making 2006 the year that it was and we hope that our retrospective does the work completed justice.
03/10/07: All about the Murphy Sting and Conradt Jr.
The Murphy, Texas sting (currently in the midst of airing) has a couple of unique elements to it. First, it features the disturbing tale of district attorney Louis Conradt Jr. He shot himself when confronted by police at his home. The police tried to get him to surrender and he refused to let them in, after an insertion team showed up an hour later, Conradt Jr. decided to face death than face justice. That was his decision.
Some people have called it "tragic", "sad" and some have even gone on to try to defend him. However, before you or anyone says anything to that effect, we have a few things you need to read and hear. We have posted the chat-logs, the call-logs and every other bit of evidence we had regarding him. If you're disturbed by his death, it's a must-read. Read the
file
and see the evidence Conradt Jr. chose death rather than to fight.
Also, a mountain of material was written in late fall 2006 regarding the Murphy sting and the period following it. Feel free to read the following companion articles to the entire saga, all angles covered. They'll help take you deeper into the story Dateline is covering this week.
Walls of denial conceal secret lives
- About Louis Conradt Jr.
A Problem They Don't Have?
- About the reaction of a couple dozen Murphy residents.
Welcome to the Quotes of Bizarro, Texas
- Quotes from actual Murphy Residents themselves and their real fears.
Mayor Baldwin's lies and inaccurates on "the Factor."
- When the Mayor of the town wilted under the glare of public scrutiny.
Inside Dateline: Response to a Councilman
- The lone blustering councilman gets a response from Chris Hansen and some of his own constituency.
---
Older Updates »
Conviction Counter
Number of predators convicted due to
Perverted-Justice.com since June 2004:

623
---
Chatlog Convictions: 622
Research Convictions: 1
Real Stories Project
For the next six months, we're documenting actual cases of internet abductions and molestations. One case a day for at least six months. Beware, these stories can be disturbing.
Updates from around the Foundation
PeeJ Store

Help our efforts to raise awareness to the growing problem of online pedophilia by shopping PeeJ. Hats, T-Shirts, Mugs and more.
[PeeJ Store]
Thank you for your Patronage