Site News
---
05/10/08: So they want to go to trial, eh?
In the last few months, we've been busy running around and testifying as an organization. We guess that's what happens when you get as many arrests into the system as we have in the last couple of years. While most predators have the good sense to ask for a plea agreement or just plead guilty outright, a few of these idiots have actually tried to go to trial.
The results haven't been pretty for predators and the defense attorneys they hire. Here's a smattering of cases that have been decided in just the last couple of months.
Clifford Wallach
- Fort Myers, Florida
Wallach hired a defense attorney and decided he was going to be the first acquittal in our history. Unfortunately for Wallach, guilty men have no good defense. Between his attorney making statements that no jury can convict a man for a fantasy of having sex with young boys and what we've come to call the "cookie defense", the assertion that Wallach only entered to eat cookies... well, Wallach was convicted quickly and will be sentenced to between 33 months and ten years in prison in December.
Nicholas Webster
- South Portland, Maine
Nicholas wanted himself a jury trial, rather than taking a plea agreement. Like the rest, he thought his attorney could bamboozle a jury into thinking him innocent. Well, jury didn't take long to see past the BS arguments and found him guilty. Webster is still in prison and will be for another 17 months, after that he has a suspended sentence and three years probation.
Christopher Urban
- Riverside County, California
Had he pled, Christopher Urban would have likely gotten extended probation and maybe thirty days in jail. Urban and his attorney, however, thought they were better than the evidence we accumulate. Urban's attorney made the case that our involvement and Dateline's taping of the sting made the case bad. In the end, his client received a year county jail, RSO status and three years probation.
Reymundo Anguiano
- Harris County, Georgia
This guy hired a mouthy, slimy little attorney who went on with a "shotgun defense." With no good defense of his client, he tried to attack everything, from claiming that we're everything short of evil to claiming that Hansen was acting as an agent of police, Anguiano and his attorney were confident of victory. Within 22 minutes, the jury came back and informed them otherwise. He was sentenced to seven years confinement with eleven years on probation.
Robert Alarcia
- Laguna Beach, California
Alarcia's attorney tried the usual confusing questions, interruptions and even yelling at our witness to try to get his client off. Once again, complete failure. The jury took 45 minutes before finding Alarcia guilty. He was sentenced to six months in jail, rather than attempting to get a reduction via plea bargaining. Waste of his money just to get more time in prison.
Jonathan Reese
- Laguna Beach, California
Attacking our administration, trying to make hay out of Dateline again... why it's deja vu for us here at Perverted Justice. Of course, it's deja vu for the predators too, as the jury in the Reese case took a mere hour to deliberate before finding Reese guilty. Reese is still in jail, as he was sentenced to eight months despite his attorney's best efforts.
Wayne Havey
- South Portland, Maine
You'd think after the last attempt by a Maine predator to go to court... well, you'd think Havey would know better. He didn't. A quick two day trial commenced and Havey was quickly found guilty. His sentencing is still to come, but he is expected to fetch years in jail.
Marvin Harrison Smith
- Harris County, Georgia
Most of the Georgia predators were smart enough to take 4-6 years in jail as part of a plea agreement. Not Marvin Smith and his attorney. His attorney promised to put Perverted Justice on trial! Sense a theme here? Well, looks like our organization was found innocent as Marvin Smith was quickly found guilty and sentenced to 25 years in jail with a guaranteed thirteen years to serve. Despite the posturing of his attorney, he'll soon be entering our special Convictiontown archive.
Used to be that predators were smarter and would immediately jump at a plea agreement. They'd get reduced time, we'd post about it on our main page and we'd move on to the next guy. Lately, however, defense attorneys have started to see dollar signs in filling the heads of their clients with all sorts of fairy tales about getting an acquittal and how these people aren't really criminals.
While most predators that get arrested are still smart enough to take the plea or just plea guilty outright in order to save money, we can't say we're all that disappointed by the choice of some of these recent predators to go to trial. After all, who wants Marvin Smith released in six years when he can go to jail for thirteen? Who wants probation when guys like Webster and the California convictions can taste the inside of prison life?
End of the day, defense attorney's say the darnedest things attacking us, trying to slam us... but in response, juries have really only had one thing to say: Guilty.
03/21/08: One greedy liar down, one greedy moron to go
Oh, media likes to talk garbage about competing media but when vindication cometh, they say nothing. A few months ago, the media circles were abuzz with news of a salacious, scandalous and smearing lawsuit! Dateline NBC was being SUED!... they blared and trumpeted an error-ridden and insipid lawsuit filed by a fired Dateline producer who decided she wanted to get revenge with dumb lies and y'know, a cool million dollars as well.
Even self-styled media pundits like Fox commentator Bill O'Reilly hailed the lawsuit, telling our administration that NBC would have to settle and that there were serious issues with NBC news! Of course,
our administrators ended up right and the pundits wrong as today the Federal courts tossed the lawsuit out on it's ear
, rejecting the producers greed-fueled claims and vindicating Dateline NBC and the To Catch a Predator specials we have done with them.
Media, almost always competitors to NBC News, is quick to scream and yell base attempts at lame scandal. You can be assured that you won't be reading much about Dateline NBC and NBC News destroying this attempted lawsuit against them, you won't be hearing commentators apologizing on-air for jumping immediately to promoting stupid scandal. You won't hear any of this because nobody wants to admit when the "other guy" is right and the truth comes out.
It is idiotic to simply assume that a cheap and dishonest lawsuit has merit and to promote it, but worse... it is absolutely disgraceful when said lawsuit is shown for the nothing it so truly was and then not report that vindication. You won't be reading about Dateline NBC and NBC News triumphing over a disgruntled ex-employee with a grudge, you won't be reading it because the truth doesn't matter, only scandals do.
Vindicated, yet again. And we can guarantee that nobody will report it.
03/09/08: Breaking News: Conradt had child porn
The story of Louis Conradt Jr. and why he killed himself just became far more clear. The media has certainly spun enough "theories" as to why Conradt shot himself. Some in the media blamed us, some in the media blamed Dateline NBC, some in the media blamed the police who conducted the search warrant in Texas. Of course, none in the media actually did much of an investigation. Had they done so, they would have discovered something that renders all the idiotic conjecture we've had to deal with moot...
Louis Conradt had a large child pornography collection.
Louis Conradt didn't shoot himself because he solicited an underage male decoy, he shot himself because he knew his secret life of pedophilia and child pornography was about to catch up with him. While none in the media seemed to care to dig for it, NBC news has uncovered the forensics report of the material found on Conradt's computer after his suicide. The result? Child pornography.
At the end of the day, Louis Conradt knew his secret life was about to be exposed. This prosecutor knew he was looking at more than a conviction for solicitation, he was looking at hardcore jail time due to his collection of child pornography. He knew the law, he knew the consequences. He didn't have time to delete his hard drives and the evidence because the police moved quickly and properly to secure his residence and the evidence.
We will have full coverage of this important breaking news over the next few days, as we analyze the failure of various media sources in actually uncovering the truth about Louis Conradt. Literally, reporters focused on writing "great crime fiction" rather than reporting the actual story. Check back for more information in the coming days.
Meanwhile,
We invite you to meet Louis Conradt Jr
and discover the disturbing solicitation he attempted on what he thought was an underage child. We're sure that you will agree that this man was clearly out of control.
Related media:
Dateline NBC update on Conradt and Murphy cases
03/09/08: Once again, Collin County prosecutor is a Liar
We've talked about it plenty and we had thought we were done mentioning it... but Collin County prosecutor John Roach is a liar, incompetent and all-around stupid. You might think we're just
covering
a
lot
of
old ground
but no, this is something new. And outlandish. And... well, have a read for yourself.
Recently while doing an audit of our case checking area, one of our volunteers assigned to keep up on cases stemming from our evidence noticed something weird. A case from Texas that hadn't really been checked up on. What we found we would like to say surprised us, but the Collin County DA's office is so inept and stupid that we're not all that shocked. We had missed a case resolution in March 2007, one of our cases had a sentencing and we weren't aware. Collin County DA's office was aware though... Why?
They prosecuted it.
The case of Jose Guevara was prosecuted by the Collin County DA's office. Sound unbelievable?
Read the detailed write-up.
The lead prosecutor in the Collin County DA's office who once ignorantly mouthed off that prosecuting a case based off our work was "impossible"... has a DA in his office who made the impossible quite easy.
Of course, it's easy in all the other dozens of jurisdictions that have prosecuted our cases too, but to a simpleton like Collin County DA John Roach... well, we're sure very little comes easy. Actually, we do know one thing does come easy to a guy like John Roach: letting internet sexual predators off the hook in his jurisdiction. That is, other than the one case of ours that they've already prosecuted. The impossible case, of course.
We've never, ever, dealt with such a corrupt and deceitful prosecutors office as we have in Collin County, Texas. Disgraceful.
01/16/08: Six charged in Arkansas sting operation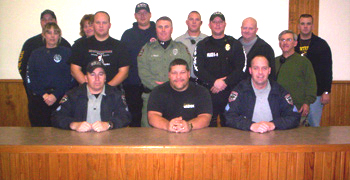 The police we worked with, thanks guys!
On the weekend of December 14th-16th, we worked with the Gentry Police Department in Arkansas to target internet predators. Over the cold and wintry weather weekend, six internet predators arrived and were arrested. Predators came from four different states to Gentry to abuse what they thought was a Gentry teen.
The list of predators caught in the operation:
- James Brock Lyons III, 28, of Fort Smith, Arkansas
- Jackie Ray Beasley, 40, of Fayetteville, Arkansas
- Santigo Gaston, 33, of Texarkana, Texas
- Michael Scott Dickison, 33, of Springfield, Missouri
- Gary Don Wood, 44, of Oklahoma City, Oklahoma
- Reza Jafari, 27, of Stillwater, Oklahoma
This was an interesting sting when it came to the individuals that arrived. One individual had a long rap sheet for domestic violence. We caught one individual upon going into a normal Yahoo chat room as a straight underage male teen. Yes, you read that right.
We were testing to see if there were any female predators that would hit us up. Instead, we were hit up by a vile predator who referred to himself as a "boylover" and went on to try to groom our kid for sex. Even when we specifically try to target female predators, we end up with male predators!
Thanks to the law enforcement in Arkansas we worked with for this sting. We're still on our nationwide tour, making sure we try to hit every area possible for sting operations.
Related media
:
6 people arrested in online sting
12/12/07: Third time is the charm in Kentucky?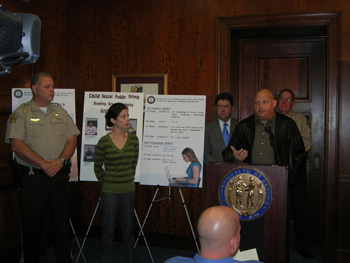 Bowling Green, Kentucky sting announcement
We recently conducted our third large-scale sting in Kentucky. The sting was our third in the last year. The first two stings saw a total of 22 men arrive at a house, with most predators primarily coming from within Kentucky itself. This latest sting in Bowling Green, Kentucky saw seven predators arrive, five from Tennessee, one from Indiana and one from Kentucky.
Over and over, chatters from within Kentucky itself referenced the previous well-publicized stings there or quite often, referenced the Dateline NBC show "To Catch a Predator" when explaining why they would not talk to a 12 or 13 year old kid. It does seem that the constant exposure and especially the rigorous schedule of sting operations in Kentucky may have had a proper chilling effect in the chat-rooms.
However, the seven that did show up were some of the most disturbing predators yet. An ex-cop who arrived on-scene with a loaded gun in his car who literally drove over 350 miles to meet what he thought was a young girl. We also had individuals arrive who had been charged with this crime before, a couple individuals who had either sent or manufactured child pornography, and a predator whom even a severe disease would not stop him from his pursuit of underage sex.
This sting is just another effort in our combined front with law enforcement. The Kentucky Bureau of Investigation has been a great partner in letting Kentuckians know that this crime is not to be done in their state. We've now hit up every major area of Kentucky and done a sting operation with Attorney General Greg Stumbo and the Kentucky Bureau of Investigations, literally putting the entire state on notice that they take this crime seriously there. They've been a great partner during our series of sting operations, we can't speak highly enough of their efforts and professionalism.
This sting was documented by NBC's Dateline for a future edition of "To Catch a Predator" as well, which will be a great way to show the nation just how effective multiple large-scale stings are in deterring predators from attempting to molest kids they've met online.
Related media:
7 Men Arrested In Sex Sting Operation
Sex sting catches five Tennessee predators
Seven arrested in sting
12/12/07: Ron Rivera, aka Banditcap71, gets fifteen years
Today we learned that
Banditcap71
was sentenced to fifteen years in federal prison for molesting a young boy in North Dakota. The case of Ron Rivera aka Banditcap71 was one of the most disturbing and harrowing that we have come across.
Rivera had solicited one of our decoy profiles sexually and we were working on getting him arrested in Suffolk County, New York. During the conversation, Rivera asks our decoy if he'd like to know how he's "safe." He then brings in a 13 year old boy from North Dakota that he'd previously molested into the conversation. We investigated to see if the boy was real and he was. We located him and turned the information over to the police. From there, Rivera was convicted on the charge of solicitation from his conversations with us... and then sent to North Dakota for charges of sexual abuse.
Rivera's case is now finished, he received fifteen years in federal prison for crossing state lines to molest the actual young boy he had already met online. We're very happy to know that he will no longer be prowling on the internet for kids and that he will have a good spell in federal prison.
For more information on an amazingly bizarre case,
Read his chat-log
and
conviction file
.
12/12/07: Georgia: It only took 22 minutes.
Despite an ignorant and mouthy defense attorney who thought it would be a good idea to attack us rather than defend his actual client, a jury took only 22 minutes to convict Reymundo Anguiano on both counts he faced. Reymundo was then immediately sentenced to seven years in prison with eight years of probation.
The defense attorney, who our operatives that were in court testifying described as looking like "
a cross between Yoda and a puffed-up frog
", had attempted to smear our reputation and our work, to try to make the jury dislike what we do. He went on and on with the same old bluster. The jury was intelligent enough not to bother with the idiotic ramblings of the defense attorney and saw that his client was a dangerous sexual predator.
There are now only two cases remaining from the Georgia sting. It will be interesting to see if those juries manage to break the speed record of the Anguiano jury on reaching the same verdict. The Anguiano log will be posted in the coming weeks as we continue to wrap up every case in the Harris County, Georgia sting successfully.
12/12/07: Addressing a stupid rumor
Some idiot is going around the internet and posting on blogs that the heartless morons (Lori Drew of Missouri) that harassed and emotionally taunted Megan Meier was or is a member of Perverted-Justice.com. That is idiocy. This person is not nor ever has been a member of our organization. Why some asshole would go around trying to link us to that tragedy is absolutely repugnant and disgusting.
The suicide of Megan Meier was a heart-breaking story to read about and hopefully the parents of Meier sue the hell out of them. Hopefully they're hounded regarding that terrible deed to the point where they have mental breakdowns themselves. We cannot condemn these people in stronger or clearer terms. They are scum.
Our heart goes out to the Meier family as an organization and we wish them the best. Our organization is absolutely not linked to this story in any way, however, and anyone stating so is a complete liar and a despicable human being.
10/31/07: Expansion: HowtoDealwithCreepyPeople.com
Perverted-Justice.com is happy to announce yet another expansion project. Our three administrators have been busy creating a new website that covers a different area regarding the issue of predators in general. Today we've launched a website called
HowtoDealwithCreepyPeople.com
. As you can tell from the title, it's all about how to deal with creepy people. This website was built and constructed for teenagers. We looked around online at all the other websites cautioning teens and hey, great effort... but a lot of them miss the mark in our opinion.
We've built this informational website with an eye towards making it accessible towards teenagers and are committed to using the real feedback of parents who show the website to their teens to improve it even more. The goal is to create a website that teens actually would like to read, that doesn't talk down to them. We obviously can't set up such resources here as some material on this website isn't meant for teen consumption, but the new website is built from the ground up to be accessible and safe for kids to read.
Be sure to check it out and show it to your teens. If they have feedback they'd like to give, they should definitely send an email to
feedback@howtodealwithcreepypeople.com
. Your feedback is very vital and we hope that everyone who has asked us for tips, tricks and advice for teens is satisfied by the work that has gone into this latest expansion to our family of websites.
---
Older Updates »
Conviction Counter
Number of predators convicted due to
Perverted-Justice.com since June 2004:

623
---
Chatlog Convictions: 622
Research Convictions: 1
Real Stories Project
For the next six months, we're documenting actual cases of internet abductions and molestations. One case a day for at least six months. Beware, these stories can be disturbing.
Updates from around the Foundation
PeeJ Store

Help our efforts to raise awareness to the growing problem of online pedophilia by shopping PeeJ. Hats, T-Shirts, Mugs and more.
[PeeJ Store]
Thank you for your Patronage