Site News
---
« Back | Archives for August, 2006
---
August 28th, 2006 - Monday 1:04 PM PST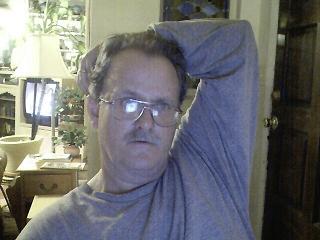 Corbett found guilty in less than two hours in molestation case
The case of William Corbett of Tucson, Arizona has been one of pretty consistent public interest. Found soliciting one of our profiles during our Group Media Bust with KVOA Tucson in fall 2005, we worked with KVOA and local police in order to get this man arrested. He has already been sentenced in regards to his solicitation of our profile, for that crime, he has earned 3 1/2 years in prison.
During the log, however, Corbett admitted to actual molestations. It is always immensely concerning when an internet predator brags up past victims and the Corbett case was no different. After the publication of his arrest by KVOA Tucson, former victims started coming out of the woodwork showing that Corbett had decades of offline molestations he had committed. However, some had already passed the statute of limitations but one, which had happened a decade ago, was brought to trial.
Unfortunately, that trial ended in deadlock as the jurors could not come to consensus on the charges of sexual abuse of a minor and child molestation. In that trial, the judge had restricted the chat-logs where Corbett had bragged up his previous molestation from the sight of the jurors. Shortly thereafter in a different case, Corbett was convicted on the basis of our evidence and that of the Tucson Police who Corbett also solicited. Prosecutors then tried Corbett again for the molestation charges. He has now been found guilty in less than 2 hours by a 12 person jury of child molestation. The difference? The judge in the case permitted the formerly restricted logs to be entered into evidence in the molestation trial.
One the factors in this case that was not brought into evidence in the previous one, the internet chat logs that News 4 and Pervered Justice turned over to Tucson Police last fall.
In the logs, Corbett, thinking he's online with a 13-year-old girl, tells her about a previous encounter with an 11-yea-old girl.
Prosecutor Angela Woolridge says, "I think that was a very important piece of evidence, we believe, constituted an admission, if not to the crime itself, but to that kind of conduct in that kind of sexual interest. The jury didn't get to hear that in the last trial and I think it was defientely a key piece of evidence in this case."
Corbett will now be sentenced to between 10 and 31 years in prison for his molestation, which will be on top of the three and a half years currently being served for the original chat-log where he solicits our decoy. We're very pleased that the evidence we accumulated was able to aid in yet another conviction of Corbett and we are hopeful that he achieves a sentence from the courts that allows society to never have him in our midst again.
Link: To Corbett's chat-log, posted in full.
---
August 12th, 2006 - Saturday 12:28 PM PST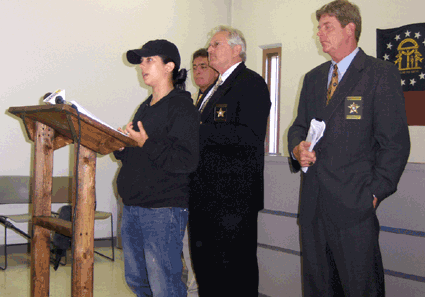 Del Harvey speaking at the Harris County GA press conference
Over July 21st, 22nd, 26th and 27th, we partnered with the Harris County Sheriff's Department to get 20 internet predators arrested. We once again went online en masse, covering every inch of Georgia internet real estate possible in order to see if predators would hit on us sexually and arrive in order to molest what they thought was a 13-15 year old child. 20 of them solicited us and made the drive to a rural area in Georgia. Among them, a teacher, a youth minister and many others from the community.
Disturbingly, some of the individuals who arrived have bragged and admitted to molesting a real underage teen in Georgia. One individual in particular was chilling as there is credible evidence that he has already completed this type of crime, with more possible victims out there. Others brought weapons and drugs to the meet, brazenly seeking to do as much harm as possible. Full details will be featured on a future Dateline "To Catch a Predator" episode in September.
During this sting we worked hand-in-hand with various law enforcement departments and agencies. We would like to thank first of all, the Harris County Sheriff's Department for inviting us into Georgia to achieve this result. We'd also like to thank the Metro Narcotic Drug Task Force, the U.S. Marshal Service, the United States Secret Service and the Georgia Bureau of Investigation for their roles supporting the sting with takedown teams and their supplying of additional investigative manpower to this endeavor.
This is the second large-scale sting we have done in July 2006, coming on the heels of our operation in Jackson, Mississippi which netted 12 predators in early July. As always, if you are involved with law enforcement and would like to request us to put your area on the list of places we need to make a visit to, please contact us to note your interest. We will be continuing to go across the nation to get as many of these predators as possible.
---
Conviction Counter
Number of predators convicted due to
Perverted-Justice.com since June 2004:

623
---
Chatlog Convictions: 622
Research Convictions: 1
Real Stories Project
For the next six months, we're documenting actual cases of internet abductions and molestations. One case a day for at least six months. Beware, these stories can be disturbing.
Updates from around the Foundation
PeeJ Store

Help our efforts to raise awareness to the growing problem of online pedophilia by shopping PeeJ. Hats, T-Shirts, Mugs and more.
[PeeJ Store]
Thank you for your Patronage